The Lab OS® Sample DB is a central database system to manage samples and their related processes
Beside sample basic information like the sample ID and the storage position, several user defined information can be stored. Depending on your individual requirements it may be logistic papers, process information, patient information or any other data. Your storage location structure can be configured individually. Even the history of the storage is documented and formerly stored information is archived. The Lab OS® Sample DB Explorer is specialized on the management of sample storage and can be easily customized and integrated in existing LIMS, KIS, HIS.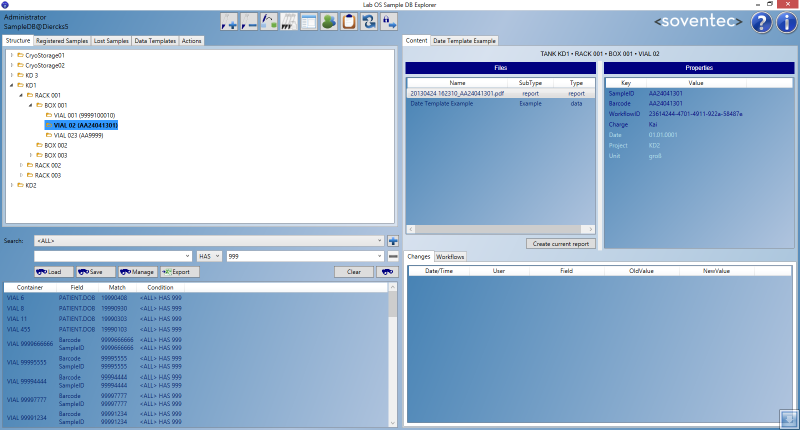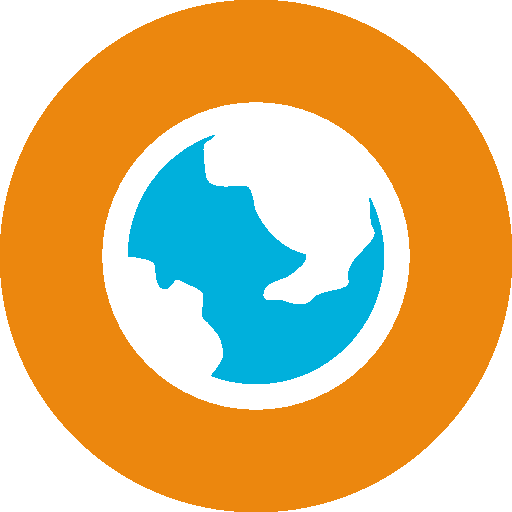 Application Field: Management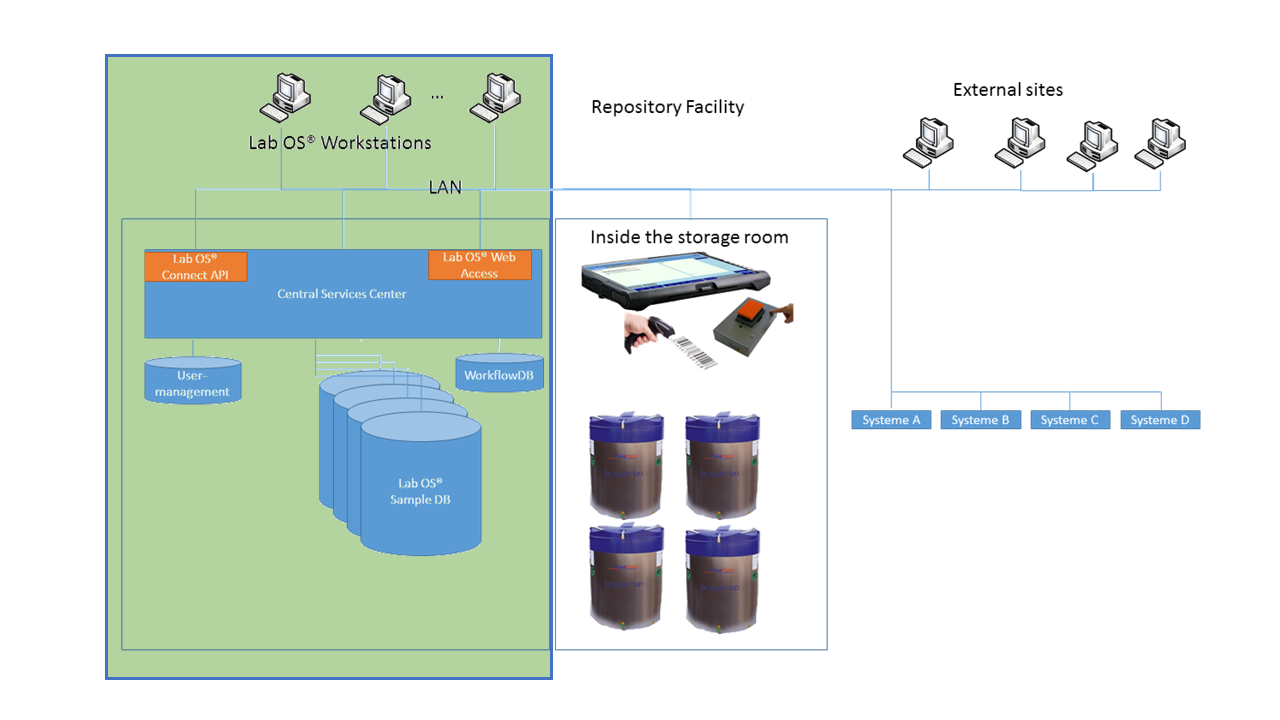 Lab OS® Sample DB Explorer module helps you to manage your samples in your office. It has comprehensive data handling functionalities to search, manipulate or move the samples

Technology
Lab OS® Sample DB Explorer is optimized to handle your sample related data convenient and save. It ist fully integrated with other Lab OS® modules and provides a comprehensive sample management solution.
Optimized for easy time-effective data management
The GUI is optimized for ease of use and to handle your data in a convenient and time effective way.
External Systems and Instruments
Lab OS abstracts external data systems (LIS, HIS, other database..) as well as Instruments in an internal communication layer. Data Integration is possible as long as the others provide interfaces. Lab OS® itself provides a high level web services based interface.
Multi-Layer Architecture
Lab OS® has a multi-layer architecture consisting
a database server at the core,
different server to access the instruments or other systems and to provide the data to
native clients and where necessary and sensible
browser-based clients
Database Server
Lab OS® recommends the use of Microsoft SQL Server as database management system. The main database contains all the sample based data. Other connected databases for usermanagement and workflow management.
For small but high quality repositories Lab OS provides a solution without any external database, using a SQLite backbone.
Barcoding
Lab OS® is an ID based system and therefore supports almost every barcode scanner (HID) or RFID Scanner (125kHz/13,86MHz). 2D Rack scanner are supported and fully integrated by different manufacturer. Barcode printing is possible with every Printer providing a printer driver for the Windows system. The Barcode lables (formats/types) can be easily configured for the system.
System Requirements
The starting point can be a state-of-the-art office computer. As Lab OS® is a highly scalable system, the system requirements depend on your operational requirements: no. of sample, no. of persons to access the system...Please ask us to get more information.
Network configurations
Lab OS® can be configured to run in many different szenarios, from a single PC solution, over intra net networks up to multi-site use via VPN or partly internet. It depends on your needs. Please ask for a concrete plan for your needs.
Reporting
Lab OS® contains a comprehensive reporting mechanism, providing (electronical signed) PDF reports in all parts of the system. An Audit trail is maintained and available for every action on the data.

Features
  User friendly storage management
  FDA 21 CFR Part 11 compliance
  Developed and tested according GAMP (ISO 62304, IEC 62366, ISO 13485)
  Documentation according GMP
  User-defined storage structures/layouts
  Barcode scanner and RFID support
  Single/Multiple Sample check in/out
  Comprehensive data Exports PDF/CSV
  Multiple IDs possible
  Windows based systems
  Multi-site/multi database suppor
  Scheduled Email Reporting
  Lab OS Web Access /Customer requests
  Electronic signatures
  "Four eyes check" feature by electronic signatures
FAQ
Getting the right starting point
Lab OS® is flexible and configurable to your needs. Choosing the right starting edition will help you start faster. It depends on many factors: the size of project, the need to use SOPs and quality docs, the need to integrate hardware components...
We can help you!
How long does it take to get started?
In general a simple installation is done in a day. With some additional starting trainings you can try to start the same days. Of course additional adaption to your process in not done within hours.
Is it possible to handle the data of many selected samples the same time?
Yes. It is possible to update or manipulate data items of many samples at the same time. Nevertheless it is always ensured, that your data change tracking (Audit trail) is up to date.
Do I have to validate my system?
In general yes, if you are working in regulatory field. You have to validate the system with your process conditions/environments. But Lab OS is designed according ISO 13485/FDA 21 CFR 820, i.e. we can provide all the documents you need to validate it. soventec has much experience in this field and can help you to go live fast and safe.
Can I integrate my existig barcode scanners?
Generally yes. It depends on the type of your hardware.
Can I integrate my lab devices?
Yes, as long as there is a possibility to access the data via an supplier defined interface.
Is it possible to get a demo
Yes, we can give you a online or on-site live presentation. Temporary test licenses are also available.
 Dok.-Version: 4.0.2130801
Dok.-Version: 4.0.1827401